Interior Design
Services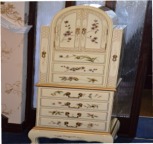 I have painters/decorators, curtain makers, soft furnishers and upholsterers
that I can recommend.
I provide an initial consultation, when I will get to know you and listen to what your
hobbies, interests are and whether your career or family history could impact on
a theme for a complete home makeover or just a particular room. Colours and
textures are so important and the right choices ensure that your home is individual
to you and your needs, whatever they are.
About, Services, Catalogue, Pictures, Contact Us
My Mission
At Paradise Design I distinguish my interior design with attention to detail and a commitment to the highest quality standards. I will endeavour to provide creative solutions in keeping with your budget and within an agreed time frame during all phases of the design process.
Selection & Installation
Everything you need to set up your home office, including networking and web design
Our design services ensure you have professional and compact office environment from which to build a successful business.